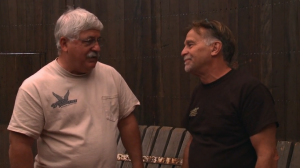 I met my old pal Kent Wadell in 1978 at a Harley Davidson dealer convention. I was 26, and old Kent was in his 60's. I was a dealer in MT Vernon, Illinois and Kent's shop was in Abeline Texas… We somehow struck up a conversation about old motorcycles and a friendship was made.
We would get together each year at the Dealer convention somewhere in the country, and talk about old motorcycles. My first of many trips to his shop was years later about 1985.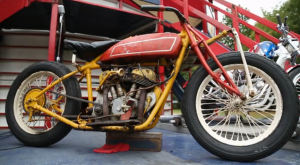 I admired his collection of Indians and Harley's, but always came back to an odd looking yellow and red Indian carnival bike. Kent told me what it was, a "WALL OF DEATH" bike. I asked him if I could buy the machine every time I visited and he always declined, telling me stories of its former glory days on the famous "Wall of Death".
And years went by, 20 plus years.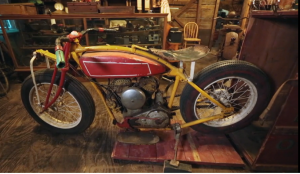 Kent passed away several years ago leaving his legacy to his son Grady, The old Indian was still leaning in the same place it was the first time I saw it in 1985. It was dirty and grimy then and about the same 30 years later. I told Grady that the Wall of Death was going to be at the Museum in a month and jokingly said we should get it running and put it on the wall. No kidding, to my surprise he said "OK!"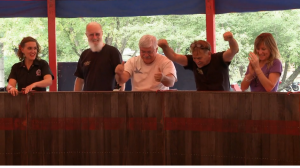 The rest you saw on the show, just as it happened step by step. I am probably not supposed to mention that when we got the bike on Wednesday we knew the only chance to film the bike on the wall would be on Thursday, leaving us 24 hours to sort it out. Well filming TV is like molasses sometimes and we did not start filming until 5 pm. We did miracles in a short amount of time, but after the film crew left there was still much to do.
I won't go into the details of the locked up transmission that night, but I will tell you what you did not see on the show was the courage that only Bob and I witnessed.
Some of the best moments making television is not on the film, but in our memory.