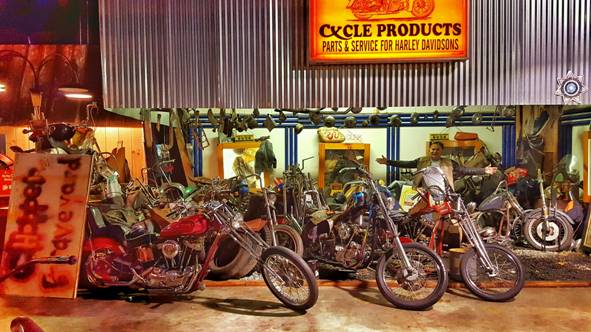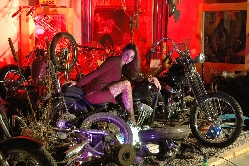 In the late1950s through the 70s the desire to make the then popular but heavyweight Harley's and Indians lighter and faster fueled the era of the classic chopper. When the American soldier came home from WW2, the motorcycle industry was at a standstill. Both Harley and Indian had produced only war machines for nearly 4 years and interest in the sport of motorcycling was left to a small number of remaining civilian enthusiasts and the returning soldiers from the war. Some of those groups splintered and formed rugged outlaw clubs who generally modified their machines to what is called the Bobber today.
It did not take long for individuals to often modify their machines to a new level and the Chopper was born. Large displacement V-Twin motors, often hopped up, would be set up in a chassis that had extensions on the front fork. This was followed with various modifications to frame rake, stretch and about anything else that the imagination could think of. As they say today "there is nothing new!" Sissy bars, hard tails, chrome bikes, tall bikes, theme bikes, coffin tanks, bitch pads, springers, girders and the list goes on.
There is nothing like the big screen to start a movement and that is what the classic film EASY RIDER did in the spring of 1969. A new wave of fame and fortune fell upon those capitalizing on this new industry. New magazines such as EASY RIDER portrayed the image and the BIKER was born. In one summer 1969…The resurgence of this era came in the early 1990. The crude old VTwins dwindled in numbers as well as the riders that cherished the 70's lifestyle.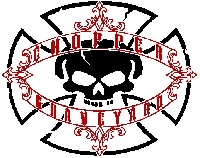 The screen got bigger with reality TV and the infamous antics of the Tuttle family in the long running series ORANGE COUNTY CHOPPERS ruled the 90 and into the new millennium.
The Wheels Through Time Chopper collection however, is the real deal. Old school all the way! Over a dozen of the coolest classic traditional choppers in the land. From the Coca-Cola Special, called the COKE MACHINE to Moe Saunders PURPLE HAZE there isn't a lot going on in the graveyard.