The '41 Knucklehead Restoration Shifts Into High Gear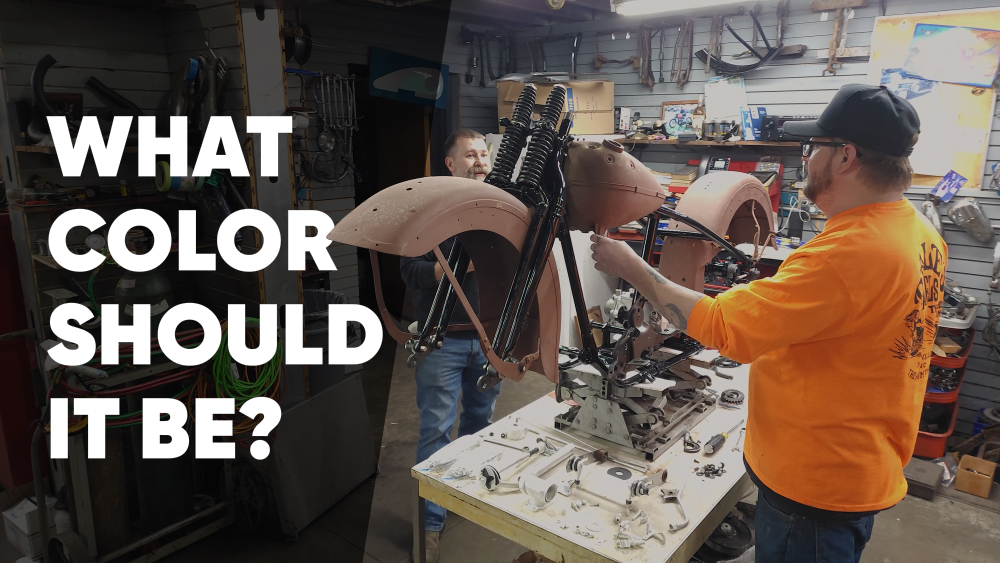 It has been a busy month in the shop here at Wheels Through Time, but we're keeping a hot pace with our 1941 FL Knucklehead project. Like many projects here at the museum, this one came to us disassembled as far any motorcycle possibly can be; packed away in boxes. Since our last update many exciting packages have arrived and much has been done to get this bike back on the road. Our engine cases had a broken motor mount upon arrival but have since been expertly repaired. While waiting on the cases to come back, we got museum painter John Dills to work painting the many black parts on the motorcycle. The chassis, springer fork, hubs and many other smaller items have been cleaned and painted with a fresh coat of black paint. Other small items on the bike have been refinished in their correct cadmium plate or parkerized finish.
The bottom end is the heart of this rebuild, 1941 was the first year of the big 74CI FL model and the cases weren't properly strengthened to handle its new power yet. As a result, many of the 41 FL cases suffered the fate of destruction. Ours are luckily now in fantastic condition. As more parts arrive in the mail, the rare 1941-only bottom end can begin to go together and in turn, so can the rest of the motorcycle. As the bike inches further along, we're left with an important question that keeps many bike builders awake at night. What color do we paint this motorcycle? In 1941 Harley-Davidson offered their bikes in four color options: Brilliant Black, Cruiser Green, Flight Red, and Skyway Blue. We've crossed both red and black off our list, leaving us with either Skyway Blue or Cruiser Green. It's a hard choice, and we can't seem to make up our minds around here; too many good options. Let us know what color you want this bike to be!