In July of 2017, The Wheels Through Time will celebrate it's 15th Anniversary and to no ones disappointment will be represented with a History Festival which will run from Saturday, July 1st until Monday, July 10th!    Dozens of rare machines will come to life creating a timeline of our two-wheeled motorized history!  New memorabilia will be displayed, and history will be discovered.  We invite you, your family, and friends to come out and celebrate our 15th birthday and enjoy our first history festival at The Wheels Through Time!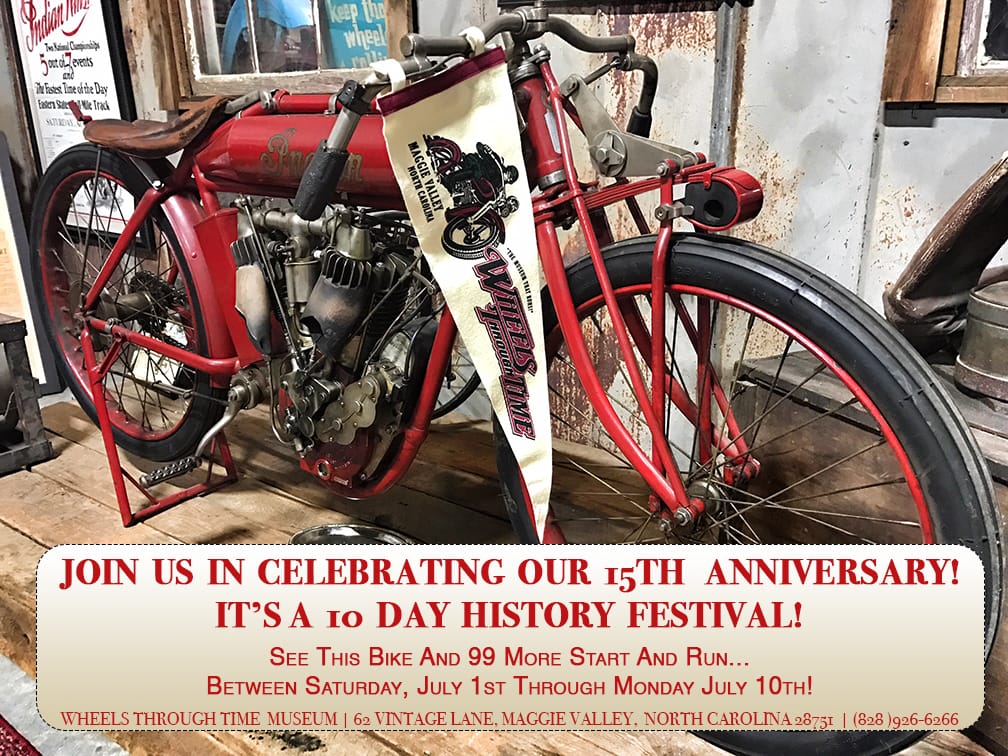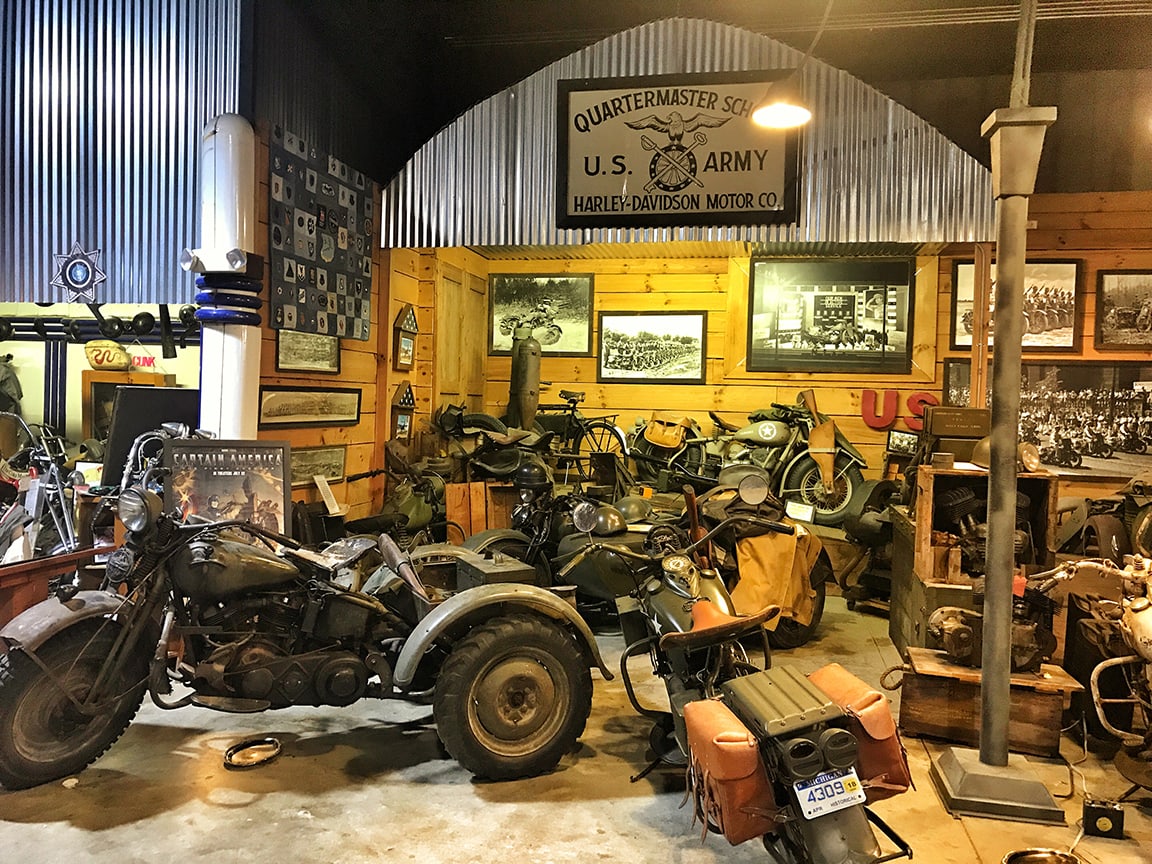 Each year Museum Founder Dale Walksler chooses a machine to represent the years of commitment to the sport. This years 1915 Indian Special is no disappointment. Watch this machine come to life with a spectacle of thunder and fire!
Each day we will have a special event or offering in celebration of our 15th Anniversary!
Saturday, July 1st
9:00am – Wheels Through Time's oldest machine will come to life again!  The 1903 Indian is a two-time winner of the prestigious Century Race in Leeds, Alabama held each year at the Barber Museum Racetrack. The 88 pound speed demon is a sight to behold at speed!
2:00pm Located in the Center Exhibit Hall, the 1000CC 1915 Indian Experimental will come to life!  This machine was as monumental in its time as it is now!  Only standing room will be available for this tribute.
3:30pm The military collection will come to life late afternoon on the museums new covered patio area.
Sunday, July 2nd
Military machines will be started and operated several times throughout the day!
Board track machines will be started and operated!
*Lady Riders are free!
Monday, July 3rd
We will run a variety of three wheeled museum specials and unveil a 1934 Harley Trike on the Dales Channel Network. This bike is 10 years in the making and it's gonna look like a million bucks!
*Both riders and passengers of trike motorcycles get free admission!
Tuesday, July 4th
9:00am –  We will run the machines that helped win the war!  Over sixty thousand of these machines were produced, and are considered modern heros of our culture. Running on July 4th will be a stunning restoration formerly owned by Lt. Frank Nagy of Michigan who donated this machine several years before his passing. The other machine is a true hero and survivor wearing the same paint as it did 75 years ago and running as good as it did the day it came off the line!
11:00am – Museum Founder, Dale Walksler, will say a few words of appreciation in the center exhibit indoors. Dale will start his first bike – the 1957 Harley custom trike and do a short lap within the museum.
*All Active Military and Veterans receive complimentary admission to the museum!
Wednesday through Monday we will recognize various rider groups in the motorcycle industry with complimentary admission!
Wednesday, July 5th
*All sidecars free admission (includes passengers)
Thursday, July 6th
*All BMW riders get free admission
Friday, July 7th through Sunday, July 9th
– Iron Dinosaur Racing will be visiting and displaying The Iron Dinosaur!  The Iron Dinosaur is a five time land speed record holding car at the ECTA Ohio Mile Track in WIlmington, Ohio!  This year, Iron Dinosaur racing plans to break the existing land speed record of 349.87 MPH!  Come see this extraordinary speed demon Between the 7th and the 9th of July!
Friday, July 7th
*All Ducati riders get free admission
Saturday, July 8th
*All Indian riders get free admission
Sunday, July 9th
*All Lady Riders get free admission
Monday, July 10th
*All Harley riders get free admission
This history festival at The Wheels Through Time will likely be the first of many more and we invite you out to help celebrate this timeless event.  All proceeds benefit The Wheels Through Time, a not-for-profit organization.  If you have any questions regarding the festival or would like to display a military machine, please email us at [email protected]!
Thank you for supporting The Wheels Through Time and helping us make our 15 years possible!
-Wheels Through Time