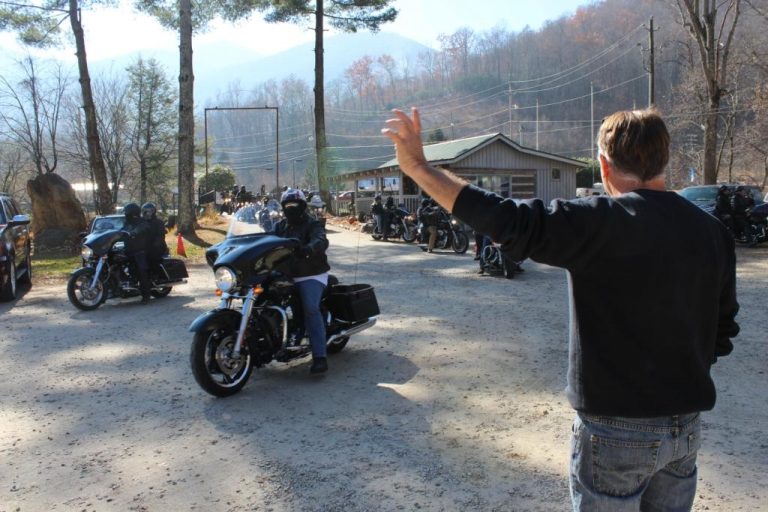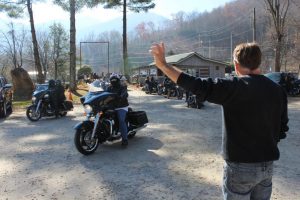 This past Saturday, November 15, over one thousand visitors gathered at Wheels Through Time to witness the museum's 12th Annual Vintage Motorcycle Raffle Giveaway. Sunny skies and brisk temperatures kept the crowd on their feet as the museum made two lucky ticket holders the winners of the 1935 and 1936 Harley-Davidson VL Flathead Bobbers.
The days festivities began as the 23rd Annual Haywood County Toy Run left downtown Canton headed for Wheels Through Time. Despite morning temperatures well below freezing, over 250 motorcycles braved the weather to help the children of Haywood County. After a catered barbeque lunch put on by the Blue Ridge Thunder Motorcycle Club, all attention turned to the stage in anticiaption of the drawing that would determine the new owners of two genuine American classics.
This year, two Grand Prize machines were up for grabs – a pair of 1935 and 1936 Harley-Davidson VL Flathead Bobbers. Over the past year, these two beautiful machines helped the 2014 Museum Raffle become the largest Wheels Through Time fundraiser to date, raising much needed revenue for WTT to build new exhibits, expand its interpretation, and improve the overall museum experience for its visitors.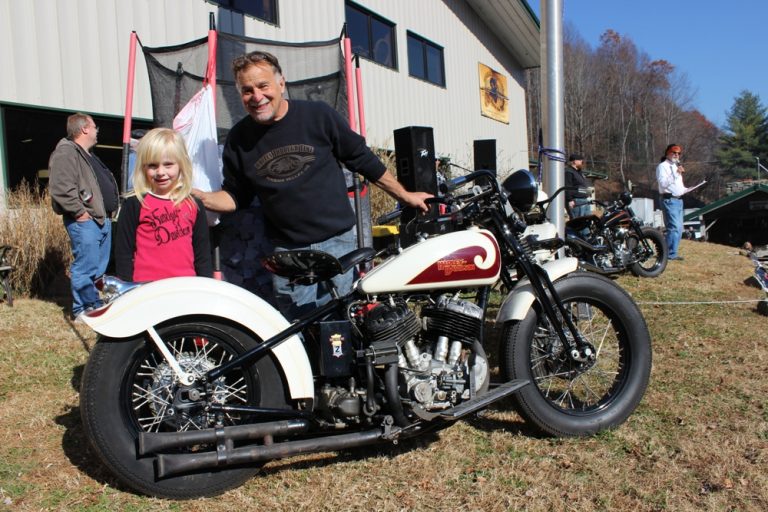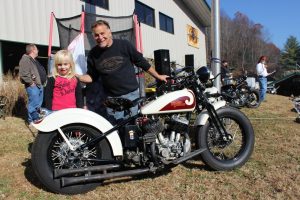 When it came time to draw the winning tickets, all in attendance fell silent, then on Dale's mark, began a 20 second countdown as an energetic youngster dove in to the throusands of tickets head first. As the countdown reached zero, the little girl held out two tickets – one in each of her outstretched arms.
As indicated in the drawings rules, the first ticket pulled would be the proud new owner of Bike #1 – the 1935 Harley-Davidson VLD Bobber. The winner was Pat Brase from Ft. Wayne, IN. Pat first visited the museum three years ago, and after having such a great time during his first stop, he came back this past 4th of July weekend with friends. During his visit he donated a 1951 AMA Riders Book, which he proudly mentioned include a mention of his uncle, who was one of the first racers in Indiana to have an AMA national number. Before his visit was over, he decided to buy 7 tickets for the museum's annual raffle.
Pat's family has been riding motorcycles for over a century. One of his prized possessions is a photograph from a motorcycle race in 1910, with his grandfather and greatgrandfather in the front row. Pat himself has been riding for over 50 years, and is the senior Chaplain for the Indian Patriot Guard Riders. He even has owned a few "old bikes" along the way. "When I started riding, you had to be a mechanic, so I learned," Pat said. "My dad rode Harley's, and taught me a lot." His first motorycle was a Harley-Davidson 125cc "Hummer" and later, he and his brother together bought a 1936 Harley-Davidson VLH. Although the bike was a basketcase and incomplete, the two had big plans to get it running. But when an interested party made them an offer they couldn't refuse, they decided to let it go.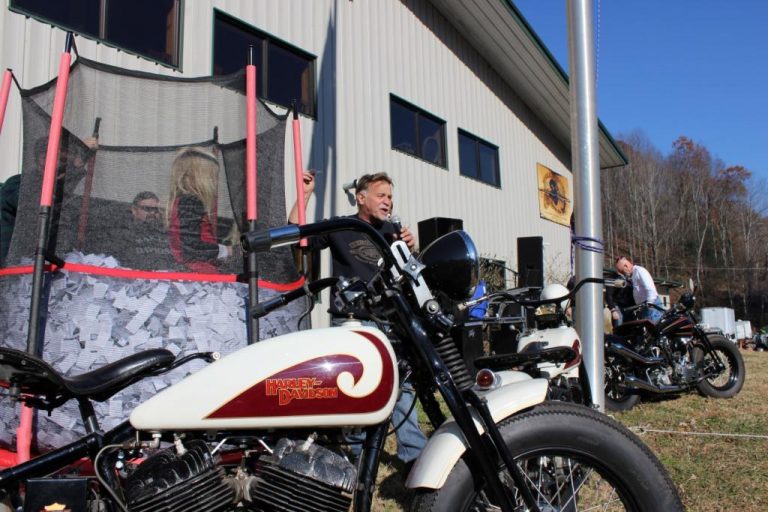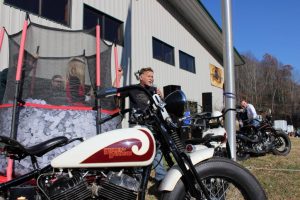 Now, decades later, Pat is again the proud owner of a genuine Harley-Davidson VL Flathead. With the help of his wife and son, he has decided that he'll be taking the bike instead of the alternate cash prize.
Winner of Bike #2 — the 1936 Harley-Davidson VL "Dale Special" Bobber — is B.J. Whitley from Garner, North Carolina. While B.J. lives only a few hours away, he had never visited the Smoky Mountains until this year. He and his wife's first visit to the area, and to Wheels Through Time was the during the exact same week that Pat Brase, winner of Bike #1, visited the museum. B.J. is the second Carolina winner in the past two years (last year's grand prize was taken home by a South Carolina resident).
When speaking of his July visit to Wheels Through Time, he said he was impressed by the diversity and the number of machines on display, citing the American Board Track Racing Exhibit and the Chopper Graveyard as two of his favorite areas of the museum. He recalled watching in amazement as Dale and Matt cranked up bike after bike, and couldn't believe it when Dale jumped aboard a 1915 Harley and rode out the front door. During his visit to Wheels Through Time, B.J. bought 14 tickets for the annual raffle, mainly to help support the museum's mission. Little did he know that just over four months later, he would get a phone call that would change his life.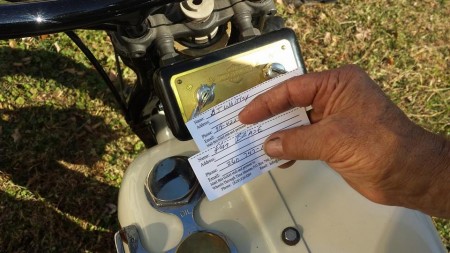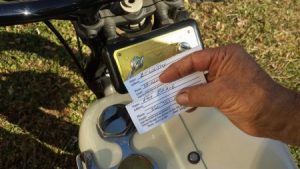 B.J. and his wife Shelby have been riding motorcycles most of their lives. His first bike was a Honda 450, that he eventually converted into a 3-wheel machine with a Harley Servicar rear end. Although he has never ridden a bike with a foot-clutch and tank-shift, he is excited to give the '36 Flathead Bobber a go.
Also during Saturday's festivities, Wheels Through Time unveiled the new Grand Prize for the 13th Annual Vintage Motorcycle Raffle in 2015. Next year's lucky winner will take home a stunning 1939 Harley-Davidson Knucklehead Bobber custom built by Wendell Turner at Turner's Cycle Shop in South Lyon, Michigan.
The Wheels Through Time museum would like to thank each and every participant that contributed to the 2014 Vintage Motorcycle Raffle. Each year, thousands of generous individuals support the museum through its raffle fundraiser, and make it possible for WTT to continue to fulfill its mission to educate and inspire a diverse audience about the history of American tranportation.