Rare Racing History Resurfaces at Wheels Through Time!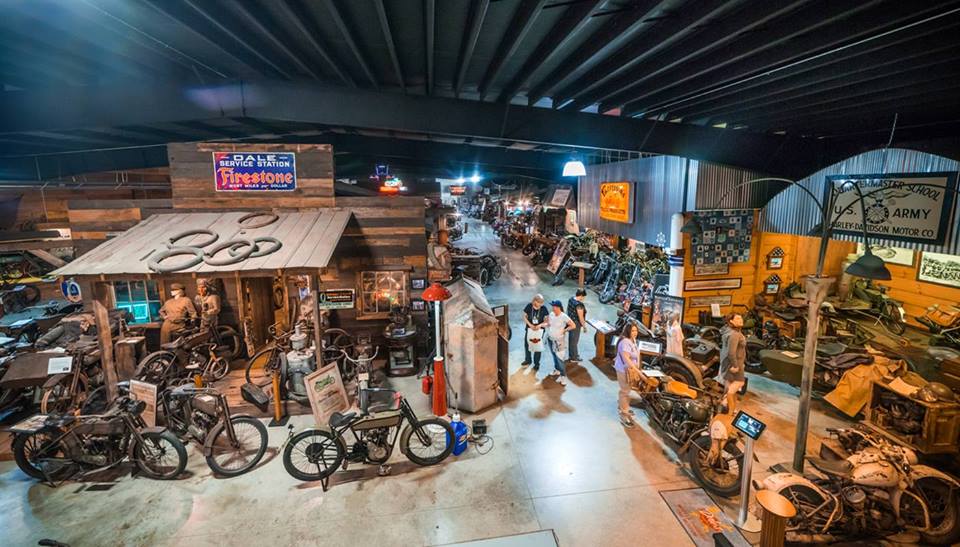 Dales Wheels Through Time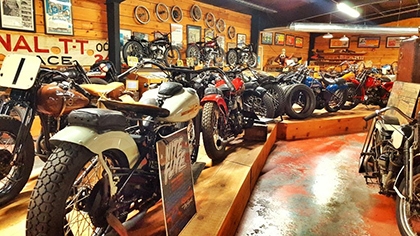 Part of the WTT 45 Collection
Wheels Through Time Museum houses one of the world's premier collections of rare and historic American motorcycles, including an extensive collection of racing machines spanning 50+ years and includes flat track, speedway, road racing, and drag racing machines. These bikes, numbering over 150 range from original as raced examples to serial number ones, national champions, and more. Many of these machines have been brought back to life in the Wheels Through Time Restoration Shop over the past 18 years of the museum's operation.
Currently, in the shop, there are over a dozen restoration projects and rebuilds, including several more racing machines. One of the more special bikes on the lifts right now is a famous 1954 Harley Davidson Panhead Drag Bike formally owned and raced by famed Harley-Davidson dealer Les Myers.
The Past: Where the Bike was Born
Les Myers owned and operated a Harley Davidson dealership in Wichita Falls, Texas. His dealership dated back to back into the 1930s, and over the years, he sponsored many racers across multiple states.
During this time, Meyer's became quite an accomplished racer himself. Wheels Through Time currently has on display his short track racing motorcycle, a 1928 Harley-Davidson peashooter. This bike was brought back to life in the shop during the winter of 2019. The machine started as a 350cc bike, and Meyers modified it to a 500cc. He also cut the frame down and shortened the gas tank. All standard practices to lighten the bike for racing.
Later in his career, Myers turned towards drag racing and the bike under discussion dates to the pinnacle of his drag racing career. In 1958, Myers became the A.M.A. Southwest and Rocky Mountain Top Eliminator at a national event in Wichita Falls, Texas. During this event, Myers piloted the machine to a blistering one hundred and seventeen miles per hour on the quarter-mile, taking top honors and securing his place in motorcycle drag racing history.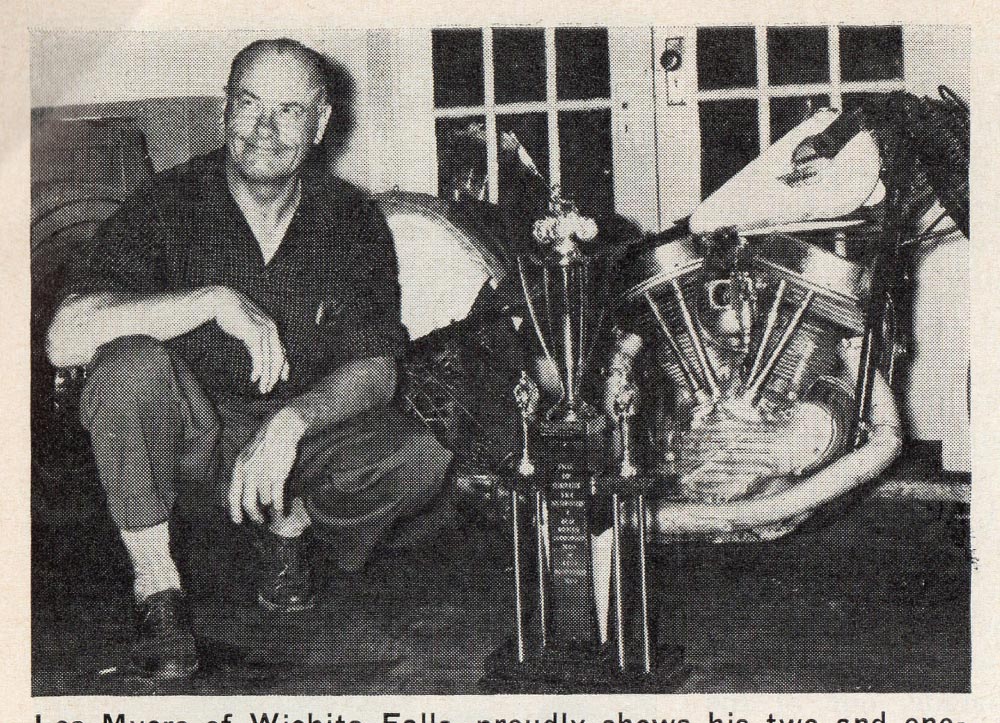 Les Myers With His 1958 Top Eliminator
Early motorcycle drag racing machines consisted primarily of modified components and dates to a time before specific speed equipment was offered for motorcycles. Myers's machine is a classic example of this and features a combination of original and modified parts.
The power plant is a bored and stroked 80 cubic inch Harley-Davidson Panhead engine with a front-mounted Edison Racing Magneto taken from an earlier o.h.v. racer. The frame has been cut down, shortened and modified to lower the bikes overall stance and to accommodate the shorter Harley Davidson lightweight fork from the 1920s. It overall has been shaved and lightened to reduce weight in all in almost all possible areas. Close inspection also shows that the oil tank is incorporated into the seat post of the frame. The reason for this again is the elimination of weight; drag bikes don't need to go far, so they don't need a lot of oil.
The machine also features lightweight aluminum racing rims and, in an unconventional fashion, had a 1940s, Harley Davidson W.L. forty-five transmission mounted on a special adapter plate to complete the driveline. This transmission has also been modified, welded up kicker, narrow 520 sprockets on the transmission and the rear wheel, homemade brake levers, and homemade rear brake control.
Upon inspection inside the transmission, we noticed there is no first gear, and all other gears had been lightened and speed cut. All put together, this made for a lightweight and powerful combination that proved successful on the drag strip.
Both wheels have lightweight racing aluminum rims. The rear has a homemade recapped slick that started with a used Goodyear Street Tire. A racing class designation is brush painted on the sidewall of the front tire.
The gas tanks were even customized and were Simplex Servi-cycle tanks that were split to rest over the frame backbone.
The Present: How the Bike Arrived at W.T.T.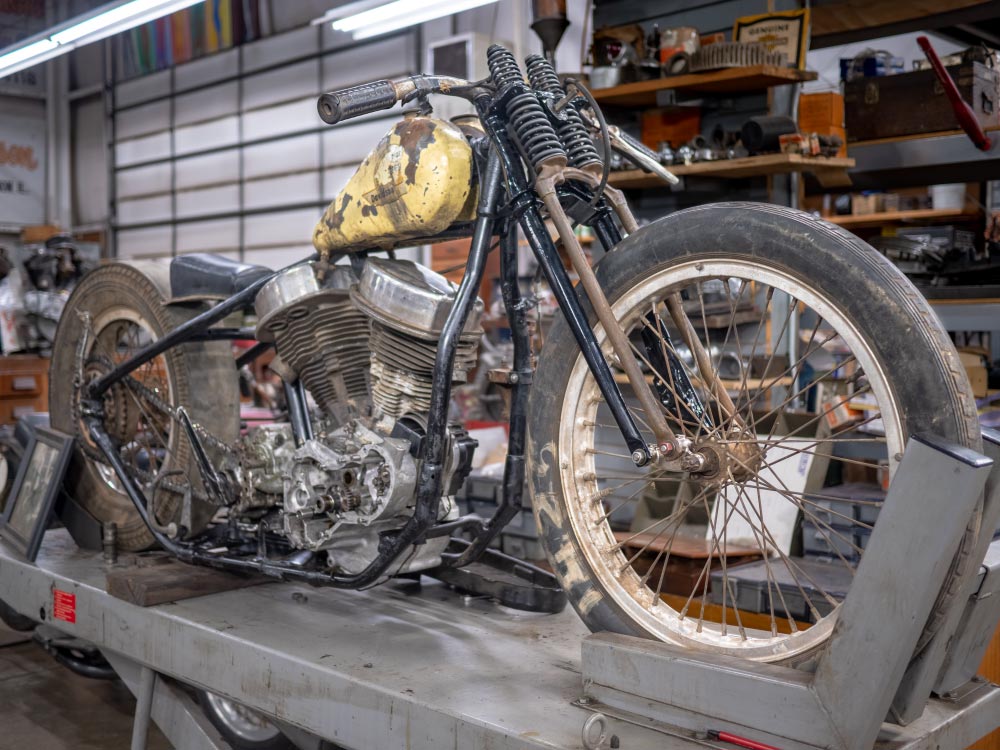 Les Myers Drag Bike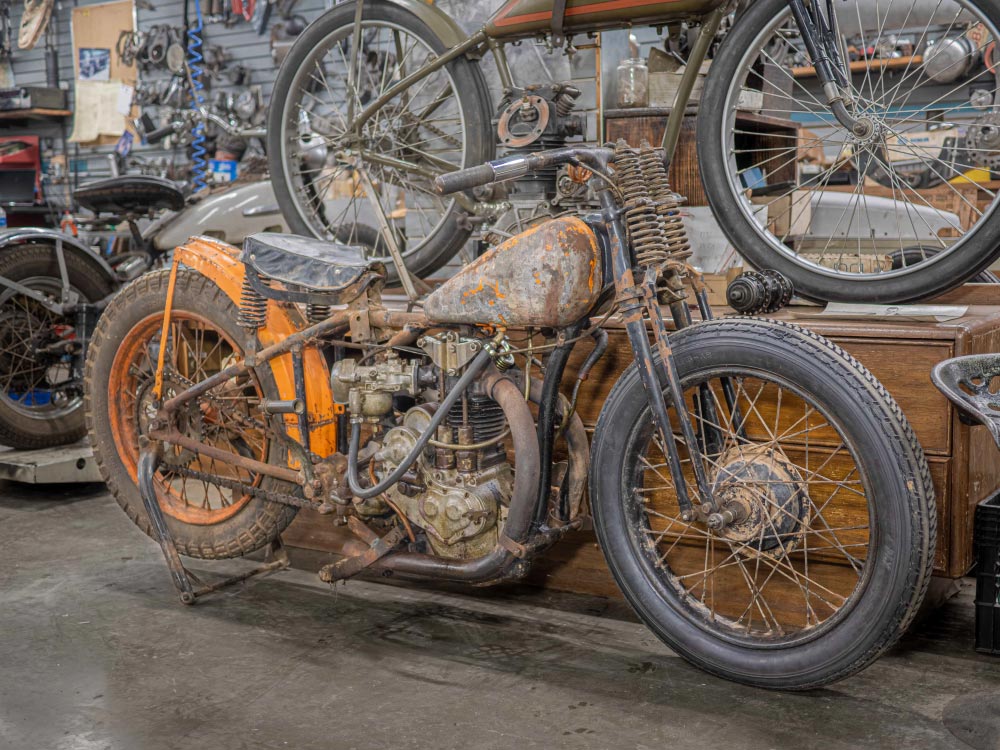 Les Myers 1928 Peashooter
Myers maintained his Harley Davidson dealership through the early 1960s upon which the inventory was sold. The inventory was purchased by Kent Waddell, who owned a Harley Davidson dealership in Abilene, Texas. Waddell began his dealership in 1961 and purchased the entirety of Meyer's obsolete inventory to be able to work on older machines. Waddell was a successful dealer whose dealership is still in operation today. In the late 1980s, museum founder and curator Dale Walksler stopped into Waddell's dealership in Abilene on a recommendation from a friend who said that there were old motorcycle parts there.
Walksler and Waddell quickly became friends, buying, selling, and trading with one another for the various projects that they had underway.
Upon Walksler's first visit to the dealership, he knew that he was amongst a pile that was a once in a lifetime pile of motorcycle parts. The interesting thing (which comes into play later in this story) was that many of the machines that Waddell bought from Myers were eventually disassembled into individual parts, sorted and then stored in the warehouse.
Fast forward to 2019, when Walksler had an opportunity to purchase the entire inventory of the Waddell's antique motorcycle collection. The inventory was still vast and required six semi-trailers to transport it to Maggie Valley, NC, and the museum.
An Unusual Set of Circumstances: How the Bike Came Back Together
For many years there was an old 8×10 picture that was on display in the Wheels Through Time restoration shop. The photo was a former drag racer kneeling next to his bike with a trophy; no caption, no information, nothing known about the picture.
After Dale purchased the parts from Kent's Family, he began to sell them on eBay. After a few months of selling parts, Matt happened across the picture of Les Myers and his drag bike. As he looked at the picture, he realized that the gas tanks on the bike had just been sold on Dale's eBay store a few weeks earlier after being pulled from the stockpile of parts. A neat coincidence but nothing to really think about at the time. The next thing you know, Matt finds a slick rear wheel in the pile. Having a copy of the Les Myers picture on his phone, he pulls it out and begins to compare; it was the rear wheel to Myer's bike.
At that point Matt started thinking that maybe the rest of this bike was there amongst all the parts and then piece by piece, almost the entire machine has been uncovered; the modified frame, original to the bike, was discovered stored underneath the trailers, along with an original 1920s lightweight racing fork.
Now, you will recall, Dale had been going down to Kent's and picking parts for 30 years and had bought a lot of parts. Some items were for projects he currently had underway, but he also often bought the unusual oddball items that just caught his eye. While cleaning the shop one day, Matt came across a crusty old Harley 45 transmission sitting on the stairs leading to the parts storage area.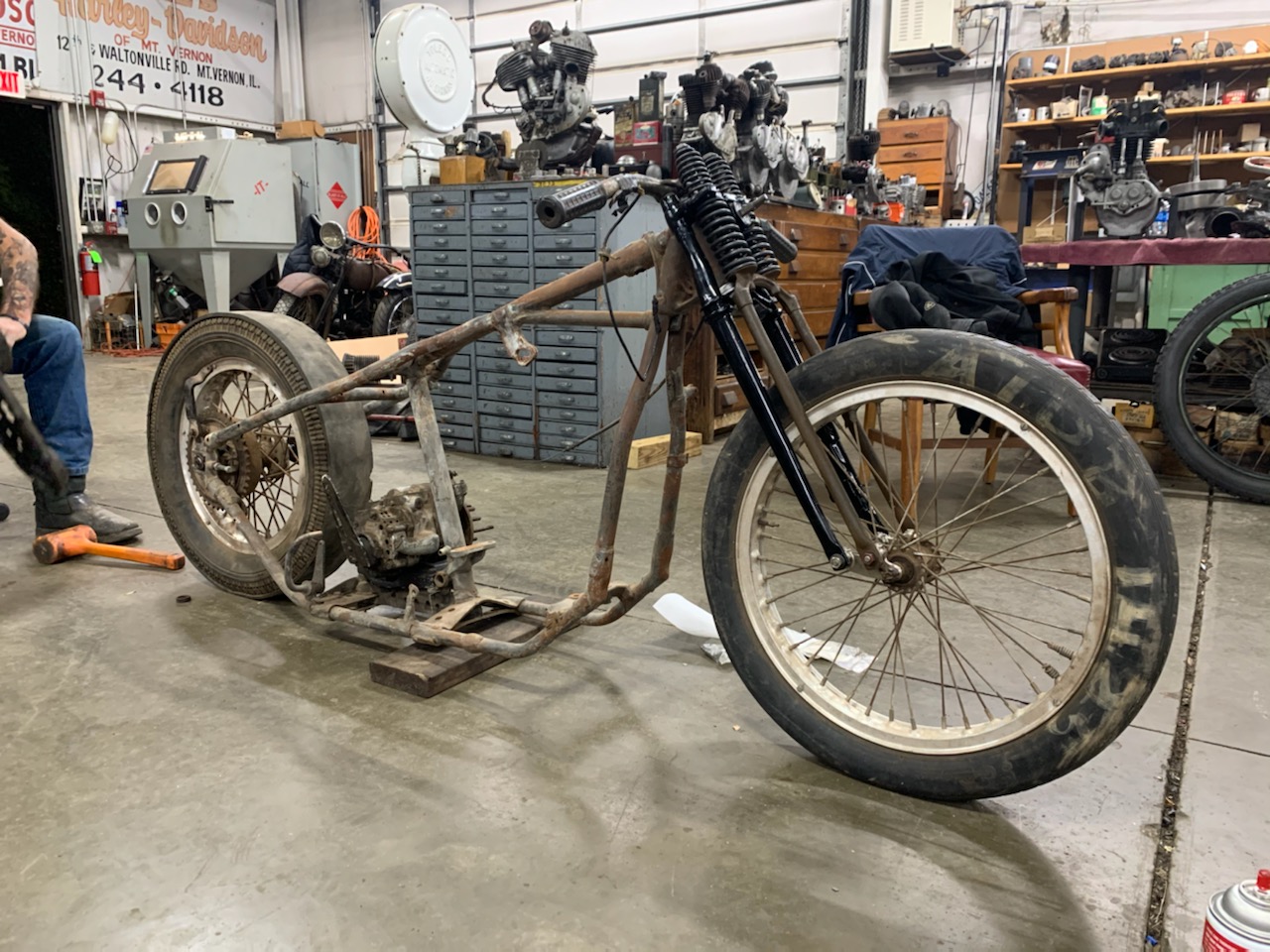 Bare Chassis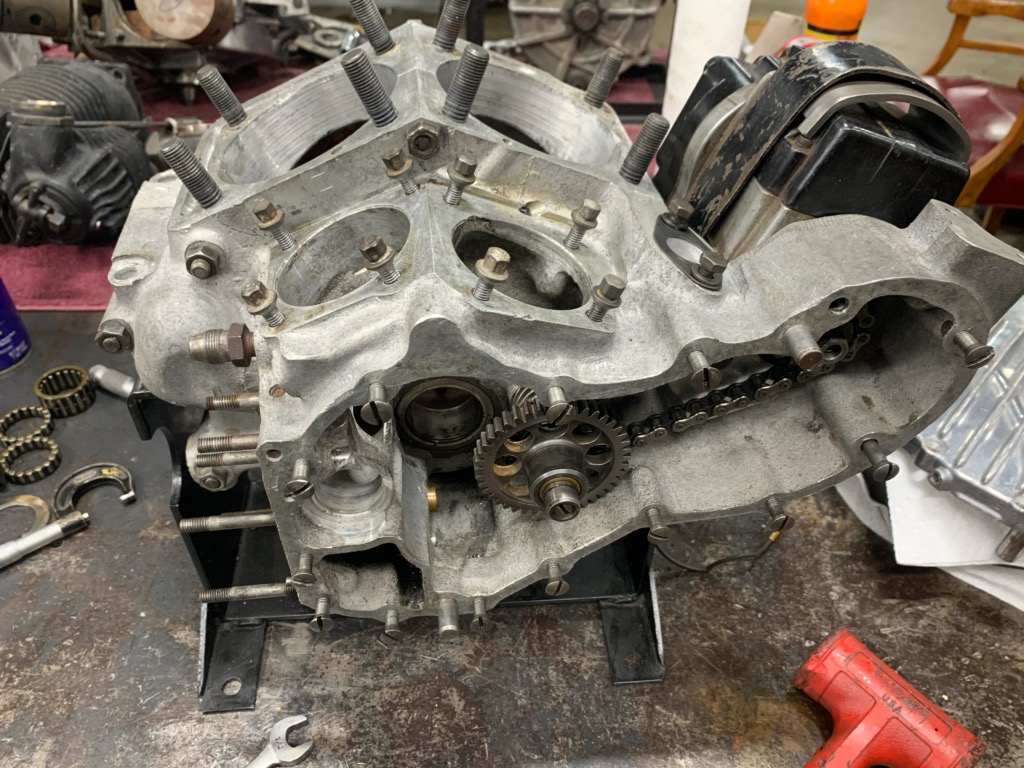 Engine Cases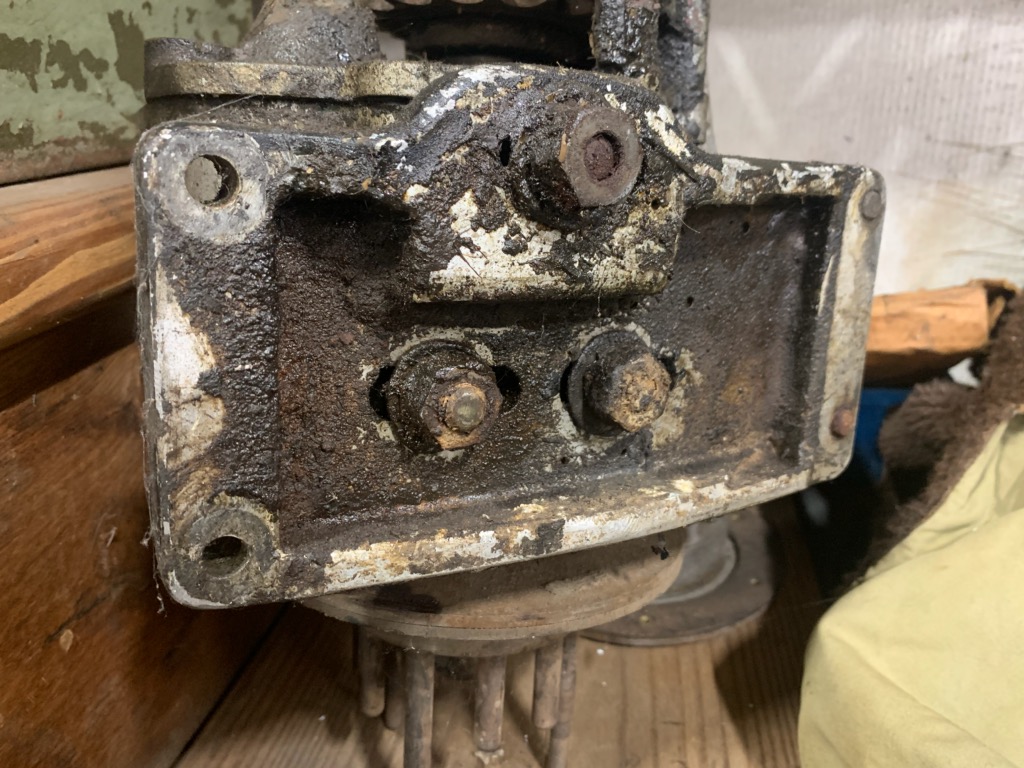 Harley 45 Transmission Bottom
He picked the transmission up to move it off the stairs and noticed it was sitting on a handmade cast aluminum adapter plate made for bolting a 45 transmission into a big twin frame. Having looked over the Myer's picture extensively, Matt immediately realized this was the transmission to that bike. Matt got on the phone and called Dale to ask about the transmission. Dale replied that he bought it at Kent's about 15 years ago. Matt picked up the transmission and walked over to the frame, and it dropped right in. The adapter plate bolts were still there, and the plate was a perfect fit.
Around the same time, even after digging through the parts, Matt still hadn't found the correct handlebars for the bike and assumed they had been sold or used for another project sometime in the past. One day he was speaking to two of our museum volunteers, Bill and Barbara Lord, and as they are saying their goodbyes, Matt looked over Barbara's shoulder and saw a set of handlebars lying on the Hillclimb display. Realizing that they have a single-cylinder mounting plate but have Panhead grips, two kill switches, and only one throttle cable, he pulls out his copy of the Les Myers picture and confirms that these are exact bars. He again called Dale, who confirmed that he bought the handlebars at Kent's on the same visit when he purchased the transmission. Piece by piece, the bike was coming back together.
After finding these parts, Matt knew he had to chase down the gas tanks. The tanks had been sold to a fellow in Japan who is a well-known collector, and thankfully we ended up working out a nice deal and got that gas tanks back. The most recent find is the primary clutch basket and engine sprocket assortment, for which Myers had numerous gearing combinations.
The bike is currently being rebuilt in the Restoration Shop, and much of the chassis has been ironed out. Rather than a shiny restoration, we decided to take the conservation approach and retain all of the parts in their original as raced finish. The engine is currently on the bench being rebuilt, and hopefully, by late summer of 2020, the completed machine will be running and on display.
You can see almost all of these project from start to finish on Dale's Channel!
Kris Estep
April 20th, 2020