Joe Petrali Sculpture Donated to
Dale's Wheels Through Time Museum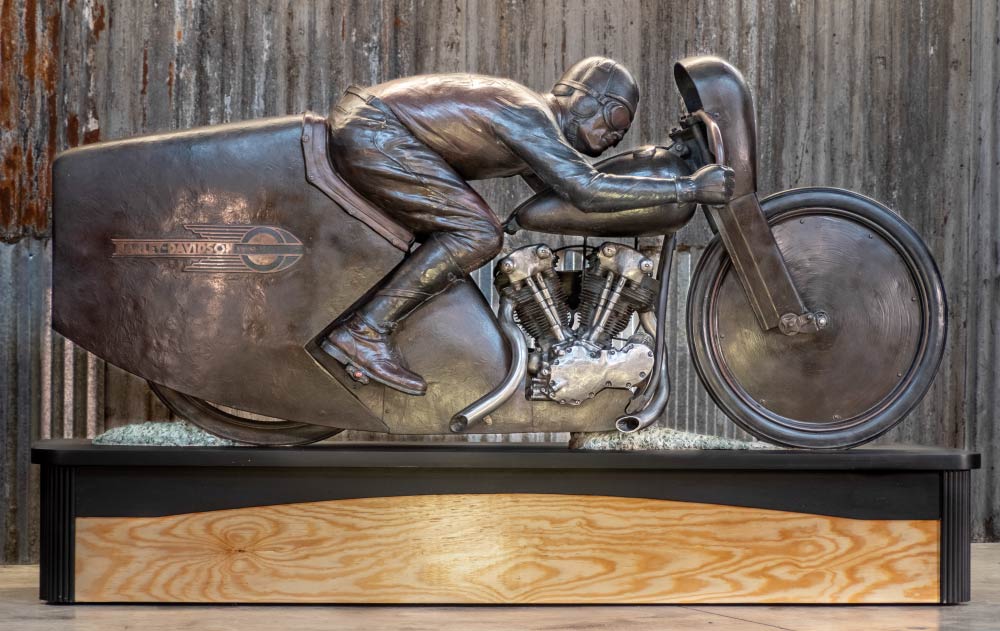 Joe Petrali Sculpture by Jeff Decker
Dale's Wheels Through Time Museum announced this week that Mike and Bev Corbin of Corbin Saddles have donated a life-sized sculpture of famed motorcycle racer "Smokey Joe" Petrali to the museum's collection.
The sculpture by artist Jeff Decker portrays Petrali on his 1936 Harley-Davidson Streamliner, which he used to set a world record of 136.183 mph on the beach at Daytona, Florida, on March 13, 1937. Petrali would hold that record for over 11 years and still holds the record for the fastest speed on sand.
Upon hearing of the donation, Museum Founder and Curator Dale Walksler said, "We are honored that Mike and Bev have chosen the museum as the new home for such a special piece of American motorcycle history. This amazing tribute to "Smokey Joe" will be a natural fit to our collection of rare racing machines."
The sculpture was commissioned by Corbin and has been on display at the Corbin Facility in Daytona, Florida, where it has been admired by countless visitors. "Our precious piece of motorcycle art that we have had on display in our Florida facilities for over 20 years will now be enjoyed for many years to come under the passionate and loving care of the Walksler family." Said Corbin.
The sculpture will be officially dedicated at the commencement of the museum's 2020 season in April but can currently be viewed on display in the main gallery at the museum until November 25 when the museum closes for the season.
Kris Estep
October 31, 2019