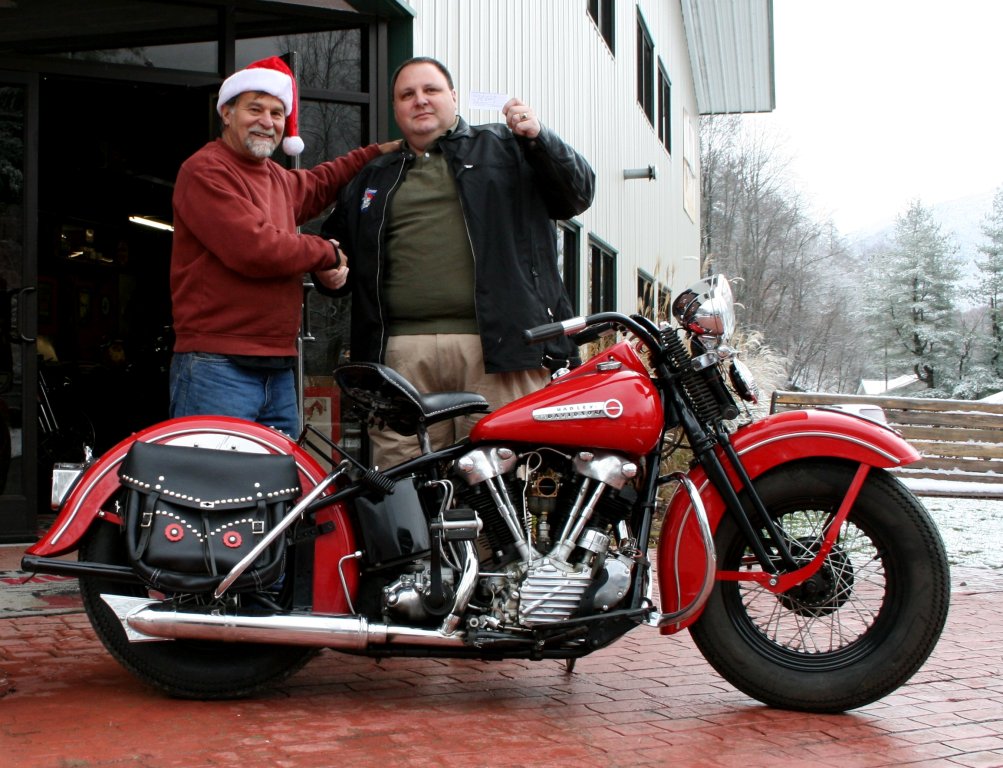 Wheels Through Time is proud to introduce the 2009 Wheels Through Time Raffle Grand Prize Winner — Jeff Kunz from Chesterfield, MO. During his very first visit to WTT, Jeff took a few chances on the museum's annual raffle fundraiser, and it would be a decision that he wouldn't regret.
Back in 2004, Jeff Kunz came to the mountains of Western North Carolina the first time. Working for AAA, Jeff was knowledgeable about many of America's great destinations and decided that the Great Smoky Mountains would be a great place to go. During his visit, he opted to drive a section of the Blue Ridge Parkway and immediately fell in love. As he followed the Parkway's twist and turns, one thought came to mind….. "I need to do this on a Harley".
Raffle Winner, Jeff Kunz, and museum curator, Dale Walksler, with the 1947 Harley-Davidson Knucklehead.
Jeff had been around motorcycles for quite some time, and in fact, at one time worked as a motorcycle salesman for the world-famous Dave Mungenast, a former 2-time International Six Day Trials (ISDT) winner, AMA Hall-of-Famer, entrepreneur, and founder of Mungenast's Classic Motorcycle Museum. Although he had ridden sportbikes since he was young, he'd always wanted to ride a Harley. So on his next trip to the mountains, he decided that's exactly what he'd do.
During the first week of October 2009, Jeff came back to North Carolina with a friend to take in the beautiful scenery of the area. Staying in Maggie Valley, Jeff found the local bike rental shop, Gryphon Bikes, and rented a brand new Harley-Davidson V-Rod. As he and his friend left for their weekend motorcycle adventure, shop owner, Ken Brown, recommended that if they had some time to spare, to visit Wheels Through Time. The next day, they did just that, and following an afternoon tour at the museum, Jeff took one look at the museum's annual raffle bike and opted to jump in.
Just over a month later, on Saturday, November 14th, Wheels Through Time would hold its annual raffle drawing in front of thousands of visitors. As the winning ticket was drawn, the crowd fell silent and museum curator, Dale Walksler, announced the winner. It was Jeff Kunz!!!