It is with great pride and gratitude that we close the 2016 Season at Wheels Through Time. It was an exciting year with record numbers of visitors experiencing the new "look" here at Wheels Through Time.  New to The Museum this year were several 4 wheel machines, and nearly a dozen new motorcycles from several different eras.   Among the new artifacts and machines, was a new exhibit of art displayed by the incredibly talented David Uhl, http://www.uhlstudios.com, which surrounds the magnificent pair of Crocker motorcycles used in American Restoration!  David's art enhances the depth and beauty of the historical artifacts that rest at The Wheels Through Time
.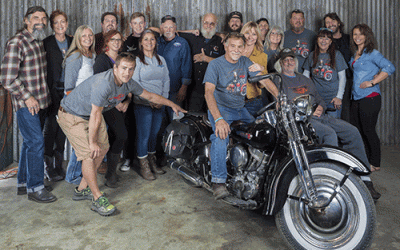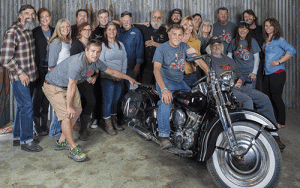 The American Restoration television show featured on the History Channel broadened the museum audience and many are now discovering their own passion for American Motorcycle History.  While many visitors and fans are asking what show is next, I have quietly been putting together something special set to debut in Winter of 2017!  Make sure to stay tuned in to our website for updates and a release date!  Simply put, if you've read this far, you surely won't be disappointed!
We also introduced the LifeTime Donorship Program allowing free lifetime admission for the Donor and 3 friends.  The Donorship program will help ensure Wheels Through Time will remain open for future generations and continue to educate people on the history of American Motorcycles.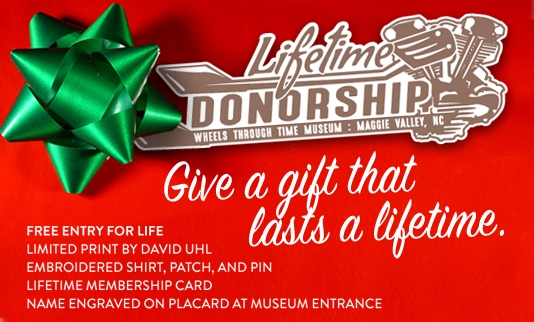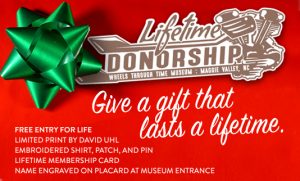 The Donors' name will remain on a placard at the entrance of Wheels Through Time as a token of the Museum's appreciation. An individually numbered and signed David Uhl print of The Discovery is included with the Donorship as well as a few other WTT goodies!  Click here https://wheelsthroughtime.com/life-time-donorship-main/to learn about becoming a Lifetime Donor!
In closing, I would like to thank my fiancé Trish who has been amazing and has spent tireless hours helping with anything and everything that required attention,  She has been incredible to say the least.
I would like to extend a huge Thank You to the visitors, volunteers, members, and supporters of this American History Experience. Each day our special friends share their stories and memories while surrounded with running artifacts of days gone by. The museum experience was undoubtedly enhanced by our incredible staff and volunteers – Nikki, Brittany, Betty, Cat, Jan, and Andy the Tour Guide.  Also, a special thanks to Jack Harrell who has been with us at the museum from over a decade.  Thanks Jack!  Throughout 2016, we fired up over 150 rare machines and helped educate over 75,000 people that came through Wheels Through Time!
Stay tuned in over 2017 to our Facebook Live, Monthly, and Quarterly Newsletters and stay up to speed on new exhibits, merchandise, gear, and of course motorcycles that are heading to Wheels Through Time in 2017!
Dale Walksler
Founder and Curator
Wheels Through Time